Hazardous Material Abatement
Keeping Buildings and Demolition Sites Safe
Demolition often encounters hazardous material like asbestos, mould, lead, mercury, and PCBs that constitute both a physical hazard and an occupational health and safety concern. It is essential and legally required that these materials be safely removed and disposed of. Priestly Demolition Inc (PDI) specializes in the safe and efficient management of hazardous materials with dedicated mobile facilities, specialized equipment, trained professionals, risk assessment, comprehensive abatement management plan to ensure effective removal. PDI utilizes innovative green procedures that also meet LEED certification requirements.
REQUEST A QUOTE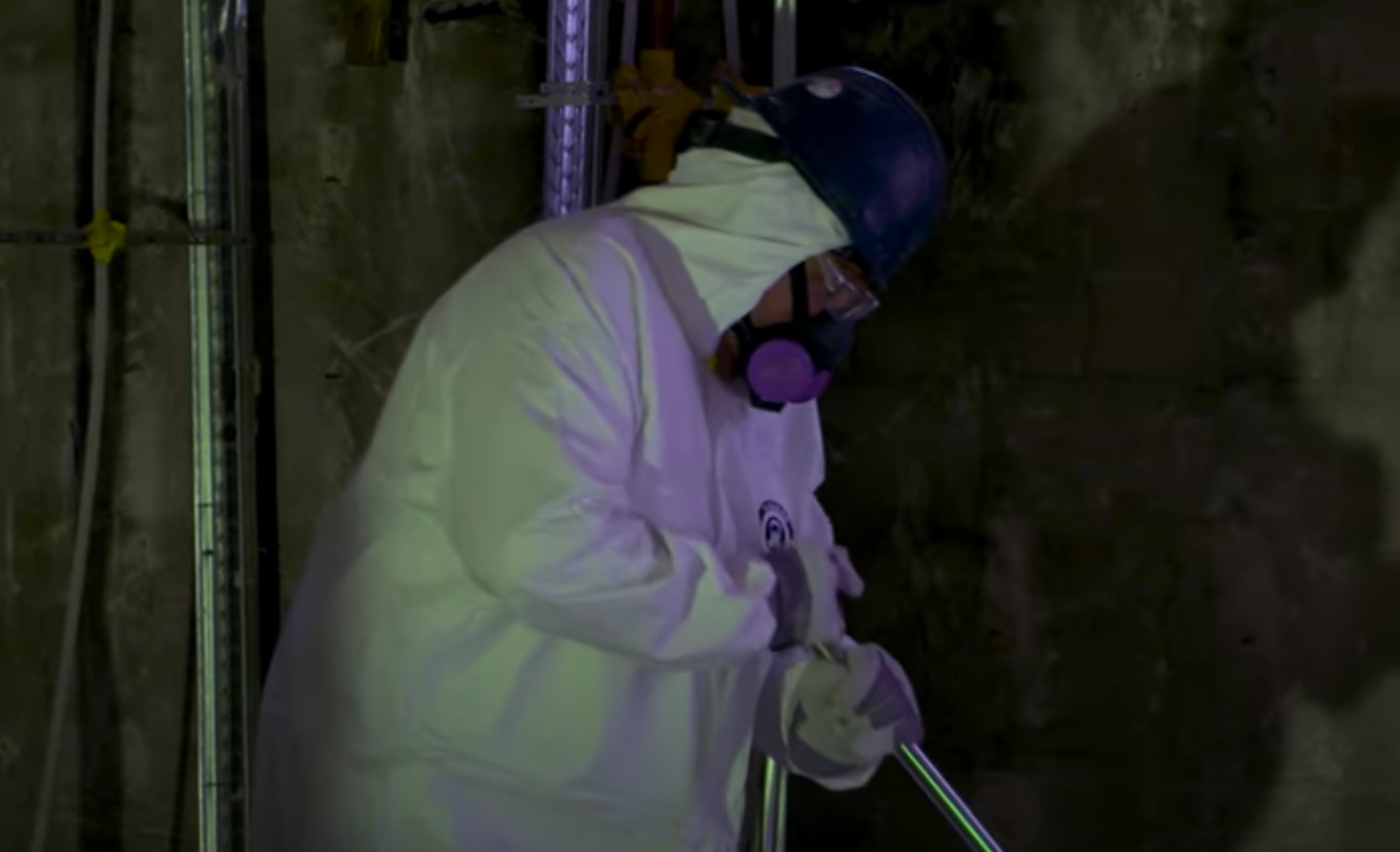 Risks of Improper Hazardous Waste Disposal
It is essential and legally required that all hazardous materials are safely removed and disposed of in a demolition project. Improper disposal of materials such as asbestos, lead, and mercury can pose various risks to demolition workers, the community, the surrounding environment, and even the client company.
Health Risks
Hazardous waste can cause harm to human health if not disposed of properly. In some cases, contact may result in skin or eye irritation, difficulty breathing, nausea, or other types of illness. In the long run, these hazardous substances can cause far more severe health side effects, including cancer, genetic mutations, birth defects, and more.
For example, asbestos, a commonly used construction material until the 1990s, is known to cause long-term health problems, including lung cancer, mesothelioma, and asbestosis. These health risks are especially high for construction workers and should always be handled with care and disposed of properly.
Environmental Risks
The impact of hazardous materials on the environment can be just as devastating and long-lasting. This may include contamination of soil, water, and air, leading to a range of environmental problems such as water pollution, soil degradation, and destruction of ecosystems and natural habitats.
Legal Risks
Improper disposal of hazardous materials can often result in legal consequences, including fines and penalties. Failure to comply with local environmental regulations and laws can lead to legal liabilities and damage a company's reputation.
Advantages of Choosing Us for Hazardous Material Abatement
At Priestly Demolition, we understand that most of our clients' demolition projects require hazardous material abatement services.
Our skilled team of experts have the required licences and follow standards and practices to safely remove and dispose of a range of hazardous materials, including asbestos, PCBs, mercury and lead, as part of our demolition services. With our reputation as an industry leader and years of experience, our team at Priestly Demolition is your one-stop solution for hazardous removal needs.
Don't believe us? Here is how you can benefit from choosing us for hazardous material abatement for your next project:
Thorough Inspection and Planning
Every demolition project at Priestly Demolition begins with a thorough site inspection to identify the extent and nature of any hazardous materials that may be present on site. This is critical for developing an abatement plan that addresses all potential risks and hazards.
Risk Assessment
Our team will perform a risk assessment to determine the level of danger associated with the hazardous materials present on-site and minimize risks to our workers and the environment.
Air monitoring
Using specialized equipment, we will monitor the air quality at the site during the abatement process to ensure that all hazardous materials are being effectively contained and removed and that workers and nearby residents are not exposed to dangerous levels of toxins.
How to Dispose of Hazardous Materials
There are several methods for disposing of hazardous materials.
Landfill is one of the most common methods. This involves placing the waste in a specially designed landfill lined with an impermeable barrier to prevent the waste from contaminating surrounding soil and groundwater. The waste is then covered with soil to prevent air exposure.
Another disposal method is underground disposal. This involves injecting the waste deep into the ground, where it will be trapped in porous rock formations to reduce the risk of environmental contamination.
Some hazardous wastes such as paint, batteries, motor oil, propane cylinders, and aerosol cans can be recycled. Recycling is the most environmentally-friendly disposal method as it reduces the consumption of raw materials and the volume of landfill materials. However, not all hazardous materials can be recycled so the effectiveness of this method is limited.
Safe and Effective Hazardous Waste Disposal Services
Priestly Demolition has experience implementing hazardous waste disposal procedures for implementation and operation. In coordination with treatment facilities, our program provides safe and efficient transportation, prompt acceptance of waste and management, and the highest possible level of recycling, reuse, and treatment. Our hazardous waste disposal services can include:
Purchasing, delivering, and providing all supplies required for startup and ongoing operations, including drums, absorbents, labels, sorting tables, unloading carts, and safety equipment.
Assistance with labpacking waste at the collection site or in client facilities as needed.
Providing training to client employees on topics such as Hazardous Waste Disposal hazards, waste sorting, packaging, health and safety, laboratory packing protocols, as well as any documentation requirements.
The collection of waste from any facilities for recycling, treatment, and disposal on a scheduled basis. Drums and absorbents can be ordered together.
We provide demolition dust control services as part of our environmental services. As we conceptualize your project, it's one of our top priorities. A lack of dust control has severe consequences for the environment as well as human health.
The process of demolition doesn't have to be expensive. You can salvage equipment and materials for reuse after demolition. Salvage reusable materials like doors, electrical fittings, and bricks to recover some costs. This is all part of the process to ensure the safe and environmentally-friendly disposal of hazardous waste. It's a smooth process thanks to our environmental services. With our hazardous waste disposal service procedures, you should be able to cover some of the overall costs.
OUR HAZOURDOUS MATERIAL ABATEMENT SERVICES INCLUDE
Sampling potentially hazardous materials and arranging for testing
Inspecting, removing, and disposing of asbestos
Lead abatement
Mould removal and cleanup
The management of PCB removal and destruction
The management and disposal of fluorescent lamp bulbs
The management and disposal of liquid wastes (residual fuels, process chemicals, etc.)
PDI guarantees that the removal of hazardous materials is completed in accordance with all federal and provincial occupational health and safety regulations. We also guarantee that the disposal of this material is done in accordance with environmental regulations.