HUMBER HOSPITAL
2017 World Demolition Award Winner for Recycling and Environmental 
Humber River Hospital's Keele site is a prime example of Priestly Demolition's (PDI) commitment to recycling. The Northwestern Region Hospital was built in 1950 to serve the growing Toronto community. When hospital services for York Region were amalgamated in the 1990s, this site, now part of Humber River Hospital, was scheduled for closure and residential development.
The existing structures contained significant amounts of asbestos, so before structural demolition could commence, the entire hospital had to be decommissioned and abated, followed by an interior stripping phase that included the removal of interior walls and electrical and mechanical elements.
The seven-storey east tower, nine-storey west tower, power plant and service tunnel all had significant amounts of asbestos, making things more complicated.
Before structural demolition the entire decommissioned hospital had to be abated at an Asbestos Abatement Type 3 level, followed by an interior stripping phase, removal of interior walls and electrical and mechanical elements throughout.
To speed things along Priestly demolished the west tower while abatement was underway on the east tower.
The crew set a lofty goal for recycling the materials and the challenges included how best to separate the brick veneer from the concrete to divert it all from landfill.
Priestly says they used the Volvo 700 high-reach excavator to precisely extract materials, recycling the red brick separately.
The project took just over a year with 50 employees working two shifts at times.
It was another winter job involving heights and an aggressive schedule compounded by being in the middle of a residential neighbourhood where noise, dust and vibrations were of concern.
We salvaged more than 90 per cent of materials for recycling, and recovered 850 metric tonnes of steel and rebar just from the concrete processing activity.
In total, there was 3,550 metric tonnes of steel, 4,267 metric tonnes of brick, 323 metric tonnes of asphalt, 337 metric tonnes of soil remediated, 1,264 florescent light tubes and 230 smoke detectors recycled.
Another 1,590 metric tonnes of construction and demolition waste was trucked for further processing off site.
Some 38,000 metric tonnes of concrete was fed into a Lippmman 4800 Impact Crusher to generate two inch chunks, which were used throughout the site for backfill on roads, lay down areas and other working areas, eliminating the need for 2,000 dump truck trips.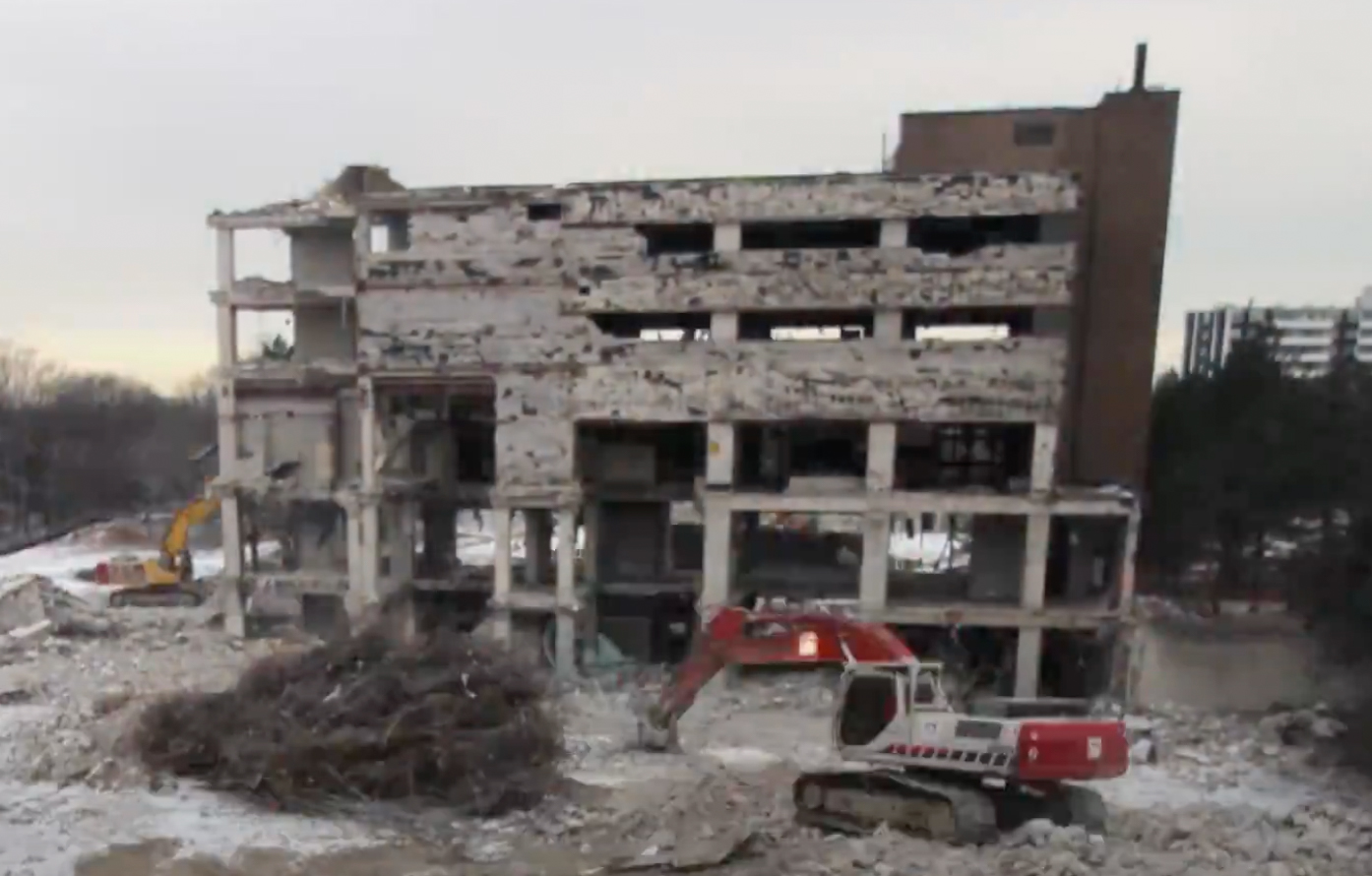 Our arsenal of specialized equipment allows us to process and separate specific materials on-site and to stringent specifications.