On-Site Concrete Crushing & Recycling
Mobile Concrete Crushers On-Site
A demolition project can produce thousands of tons of concrete aggregate, which can be costly to transport and puts a strain on the environment. Concrete aggregate collected from demolition sites was once routinely trucked to landfills for disposal, but as landfill costs continue to rise, concrete crushing and recycling have become an increasingly attractive option.
Priestly Demolition aims to recycle 95% (or more) of the debris we generate from our demolition sites. We are able to do this using our mobile concrete crushing units, and our PDI National Salvage site. We ensure your project is compliant with environmental disposal laws while keeping construction costs down. Custom crushing for pits and quarries available. Contact us for more info.
REQUEST A QUOTE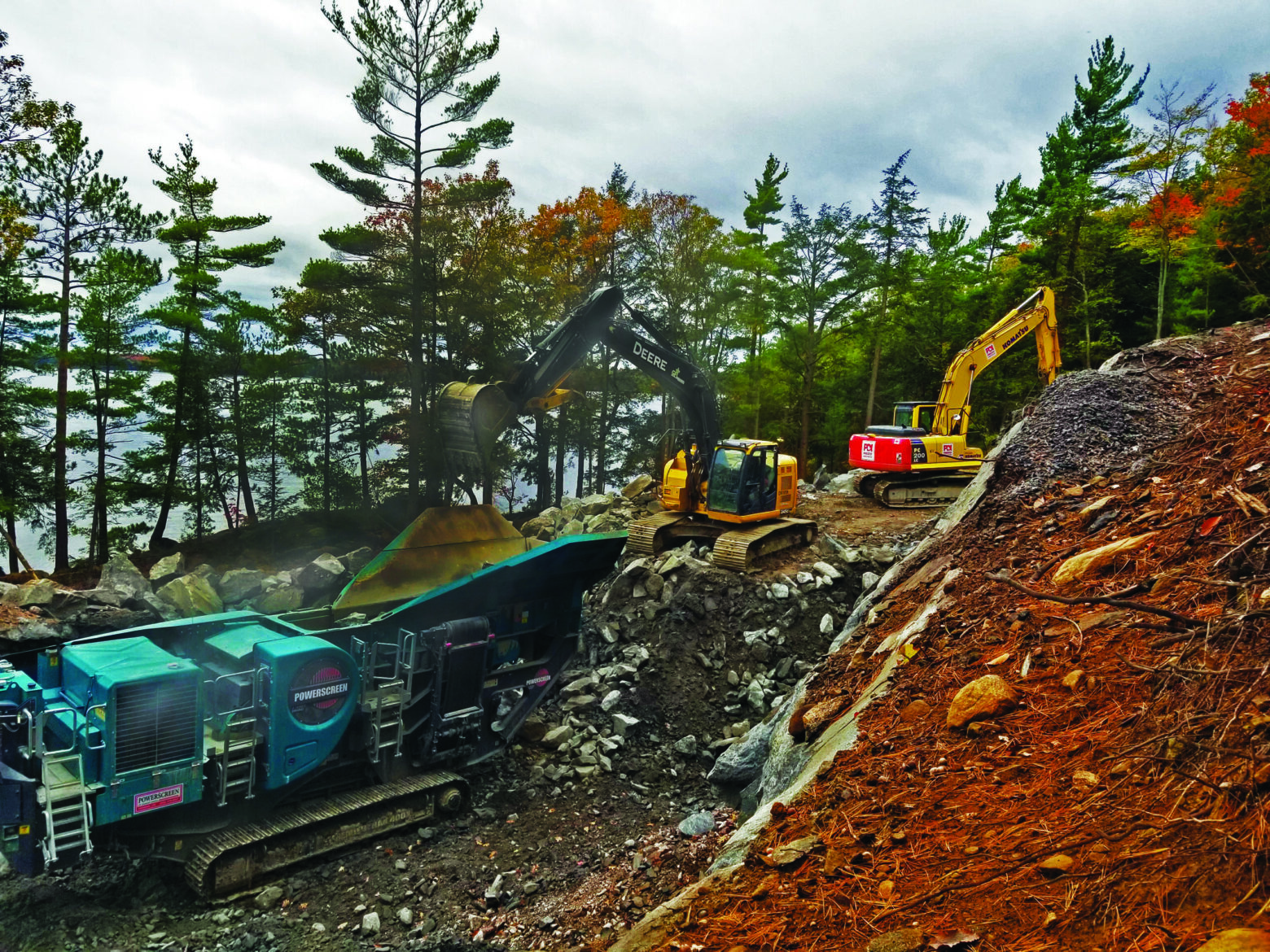 Why Choose Priestly Demolition for on-site crushing services?
Are you looking for a reliable, experienced demolition company with on-site crushing services? At Priestly Demolition, we offer complete mobile and on-site concrete crushing and recycling services, which includes:
Mobile and portable concrete crushing equipment such as excavators, loaders, impact crushers, and screening plants
Pre-sizing, sorting and general size reduction
Crushing of materials to meet your final product size specification
Ferrous metal removal by belt magnets
With years of expertise and a proven track record of reliability, our team is equipped to handle all aspects of your project to save you time and money. We are committed to providing our clients with customized solutions that meet their unique needs and requirements, no matter the size of the demolition project. Using only the latest equipment and techniques, we are here to ensure that each project is completed safely and with minimal disruption to the surrounding area.
Work with Priestly Demolition today for efficient, reliable, and cost-effective on-site crushing services.
On-Site Concrete Crushing and Recycling Process
The process of crushing and recycling concrete with Priestly Demolition typically involves the following steps:
Preparation
All materials to be crushed and recycled are gathered and presized to ensure they meet the requirements of the final product. Thanks to advancements in concrete recycling equipment, any type of concrete can now be recycled, whether it be plain, mesh-and-dowel or continuously reinforced concrete.
Crushing
Our team will transport our mobile concrete crushing units to the demolition site. Large pieces of concrete are fed into the crushing unit, which uses powerful jaws and impactors to break them down into smaller pieces.
Screening
Once the pieces of concrete are crushed, they are screened through a secondary impactor to remove any dirt and debris to ensure the final product is clean and free of contaminants.
Separation
After screening, any remaining impurities are removed using various techniques, such as electromagnetic separators, air separators, and water flotation separators.
Electromagnetic separators use various magnetic fields to separate metal particles from crushed concrete, while air separators use a stream of air to isolate materials that are lighter than concrete, such as plastic and paper. Water flotation separators are effective in separating a variety of materials based on the principle of buoyancy. Chemical additives in the tank cause certain materials to float to the top of the tank, leaving only crushed concrete at the bottom.
Recycling
The final step is to recycle and reuse the materials that have been separated. This may involve crushing the materials again to create a finer product or sending them to a local recycling centre to be reused in other construction processes, such as paving for walkways and driveways, bed foundation for utility trenches, landscaping mulch, and even foundation for new reef habitats.
Benefits of On-Site Crushing and Recycling
On-site crushing offers many benefits, including the following:
Cost Savings
On-site concrete crushing and recycling provide significant project cost savings. This is because recycled aggregates are less expensive to produce and cheaper to buy than newly quarried materials. On-site crushing also avoids the expense of transporting materials to and from processing and recycling facilities, further reducing project costs. Plus, choosing to recycle materials eliminates the need to pay disposal and tipping fees, which can lead to additional cost savings.
Recycled aggregate is considered a "green" construction material as it reduces the amount of waste that goes to landfills and avoids harmful carbon emissions associated with producing new construction materials. It also lowers emissions during transportation as crushed concrete can often be reused in areas near the demolition site for new construction.
Time Savings
On-site crushing speeds up the demolition process, as materials can be crushed and reused immediately without needing transportation to a recycling centre.
Versatility
Recycled concrete is a versatile and sustainable building material that can be used in a variety of construction projects, such as:
Base material for roads, parking lots and building foundations
Fill material in construction projects, like retaining walls, landscaping and erosion control
Drainage material in construction projects
Sub-base material under asphalt
Riprap for erosion control along waterways
Concrete crushing is one of the methods used to help divert waste from landfills. By crushing, sorting, recovering, re-using, and recycling concrete, we help lead the charge to a more sustainable tomorrow.