Canada's Most Trusted Demolition Contractor
We Are Trusted Innovators Leading The Charge to a More Sustainable Future
OUR DEMOLITION FLEET
As one of the largest demolition companies in Canada, we work on some of the largest demolition projects in the country, with a huge fleet of heavy equipment and leading-edge technology. With one of the largest fleets of high-rise demolition equipment in Canada, Priestly has sheer power behind their proven solutions.
With over  250+ pieces of heavy equipment, our company has the training, experience and know-how to handle any project, anywhere, and anytime. from high traffic demolition to high-rise dismantling and everything in between.

Included in our fleet is the tallest high-reach excavator in the country, the Kobelco 1600.
This configuration is the first of its kind in Canada, with 162 feet of high reach ability.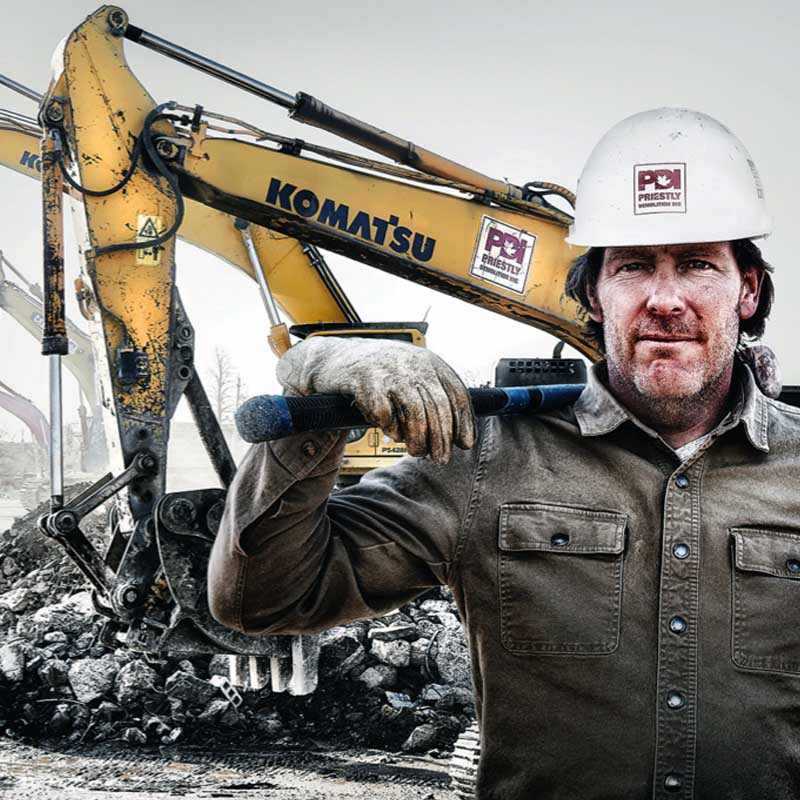 DEMOLITION SERVICES AND SOLUTIONS
At Priestly Demolition, our team of contractors focus on building long-lasting partnerships with our clients. Our company listens, consults, engineers a plan, and communicates every step of the way.
PARTNER WITH US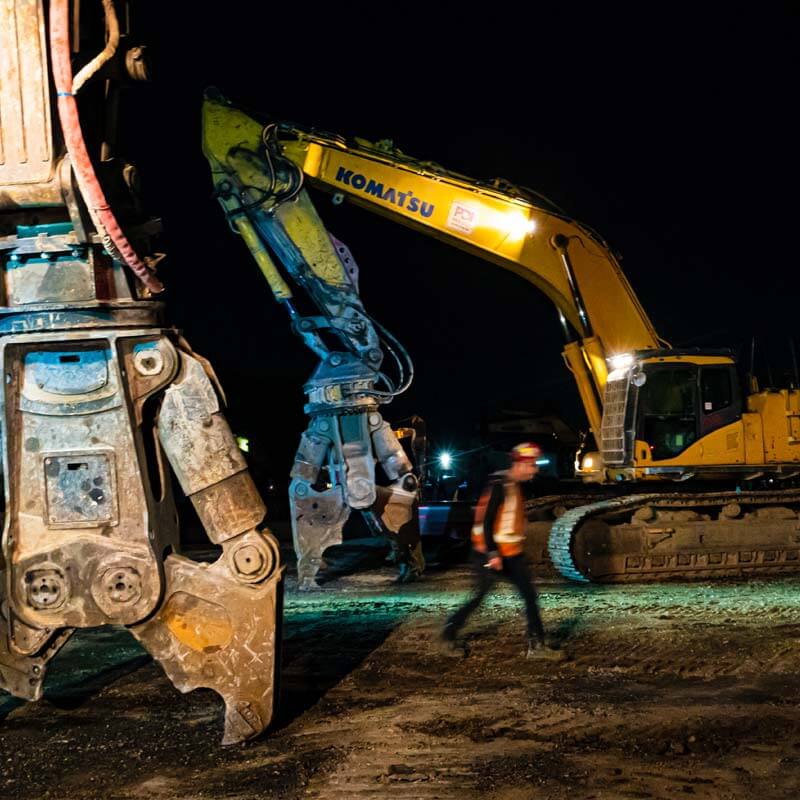 AN AWARD WINNING DEMOLITION COMPANY
As trusted friends and partners to many organizations across North America, with offices in Toronto, Ottawa, Calgary, Windsor and Virginia, our demolition contractors take pride in devising unique demolition solutions that increase the safety and efficiency of our projects, while demonstrating exceptional environmental stewardship.
OUR STORY
STAY CURRENT WITH PDI's DEMOLITION CONTRACTORS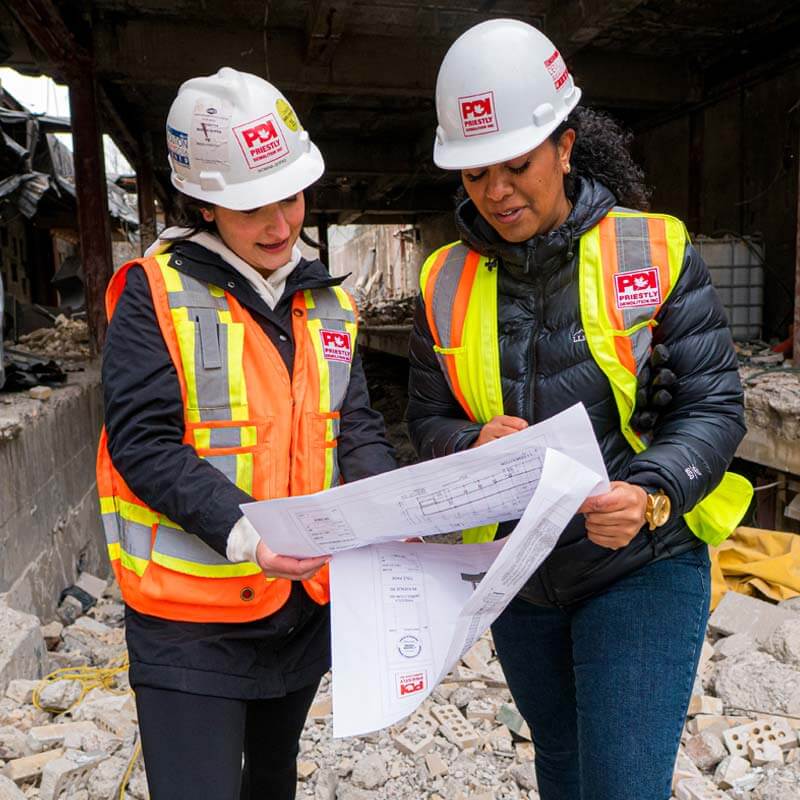 CAREER OPPORTUNITIES
Help shape the future of demolition. Demolition work is dangerous and stressful, and it takes the teamwork of highly skilled workers and professional demolition contractors to get it done.
JOIN THE TEAM
Our company has the innovation, technology, and experience to engineer solutions for the most difficult and complex demolition jobs.
FAQ
Can I review your business license?
To safeguard your best interests, it is crucial to request and review the business license of any residential demolition contractor you engage with. Working with unregistered individuals or entities leaves you with limited recourse in case of losses or injuries. Moreover, you may be held liable for any untoward incidents that occur. Protect yourself by ensuring the demolition contractor you choose is licensed and operating within the legal framework. This step provides peace of mind and helps mitigate potential risks associated with unlicensed or unregulated services.
Do you have insurance coverage?
It is crucial to hire a residential demolition crew that possesses the necessary insurance coverage. This measure safeguards the interests of all parties involved in the project. By ensuring the demolition company has appropriate insurance, you protect yourself from potential liabilities and risks. Insurance coverage provides financial protection in case of accidents, property damage, or injuries that may occur during the demolition process. Prioritizing a demolition contractor with comprehensive insurance coverage is a responsible decision that promotes a secure and worry-free project execution.
Do you prioritize safety measures on the job?
Absolutely, at Priestly Demolition, we prioritize safety as a fundamental aspect of our operations. We maintain an exceptional safety track record, and our company is COR (Certificate of Recognition) certified. This certification demonstrates our commitment to upholding stringent safety standards in all our projects. We have robust safety protocols in place to ensure the well-being of our team members, clients, and the surrounding environment. By adhering to industry best practices and continuously investing in safety training and equipment, we strive to create a safe working environment and deliver demolition services with the highest level of safety standards
How do you handle the disposal of toxic materials?
When demolishing various types of buildings, including residential or commercial spaces, there is a potential presence of unknown toxic materials. Hazardous substances like asbestos and mold commonly exist in older structures, requiring careful handling. It is crucial to select a demolition company that has a comprehensive plan for asbestos abatement and mold remediation, or that collaborates with a specialized demolition cleanup crew. Failure to address these materials properly can result in dangerous airborne particles and environmental ramifications. Prioritizing a demolition contractor with expertise in managing toxic materials ensures safe disposal and mitigates potential risks to health and the environment.
What is the role of a demolition contractor?
A demolition contractor plays a crucial role in the safe and efficient demolition of buildings and various structures. Their responsibilities extend beyond demolition itself. They meticulously plan and coordinate the entire demolition process, ensuring safety protocols are followed, and overseeing the efficient dismantling and removal of structures. Additionally, a reputable demolition contractor also takes charge of waste management, ensuring proper sorting and disposal of debris. They understand the importance of final clean-up to deliver a clear and safe site for future developments. By entrusting a professional demolition contractor, you can expect expert guidance, meticulous execution, and comprehensive project management.
What qualifications are necessary for professional demolition?
To perform professional demolition, several qualifications are essential to ensure safety and compliance. These qualifications include having the necessary insurance coverage to protect all parties involved. It also involves being registered with WSIB (Workplace Safety and Insurance Board) to provide coverage for workers in case of injuries. Knowledge and certification in WHMIS (Workplace Hazardous Materials Information System) are crucial for handling hazardous materials safely. First Aid and CPR (Cardiopulmonary Resuscitation) certifications are vital to respond effectively to medical emergencies. Additionally, proper training and certification in Working at Heights are necessary to ensure safe operations in elevated areas. By ensuring these qualifications, a professional demolition contractor demonstrates their commitment to safety and regulatory compliance.
Is a demolition permit required for my project?
Yes, obtaining a building permit is necessary when relocating or demolishing an existing building or structure. Your demolition application will undergo a thorough review to ensure compliance with safety requirements throughout and after the demolition process. It is essential to adhere to applicable laws such as the Demolition Control By-law and the Ontario Heritage Act. Additionally, clearance certificates from utility companies, confirming the disconnection and capping of services, must be obtained.
Why should you hire a professional demolition contractor?
Hiring a professional demolition contractor, such as Priestly Demolition, offers numerous benefits when undertaking demolition projects. Opting for their expertise ensures a smarter approach to demolition, with efficient and effective methods tailored to your specific needs. Professional contractors possess the necessary knowledge and equipment to complete projects faster, minimizing downtime and facilitating quicker progress. Moreover, prioritizing safety, they follow stringent safety protocols to ensure a safe working environment and mitigate risks. By engaging a professional demolition contractor like Priestly, you can expect reliable and quality service that adheres to industry standards, providing peace of mind throughout the demolition process.