Commercial Demolition Services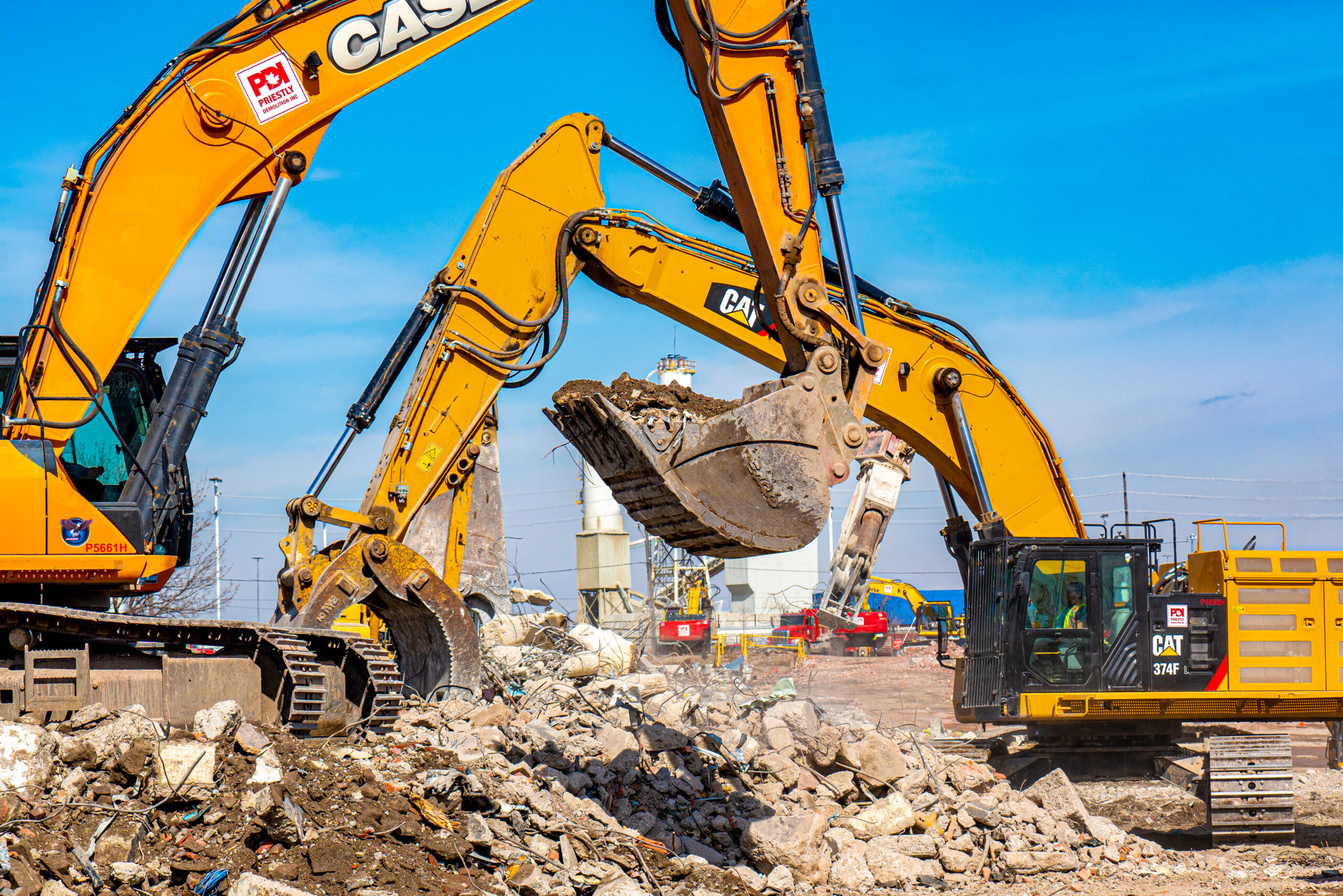 With innovation, technology and experience on our side, you can trust Priestly Demolition for all your commercial demolition projects. Our expertise includes the safe and careful demolition of large commercial properties such as condominiums and apartments, office buildings, hotels, and large industrial facilities.
In an industry with constantly evolving demands, Priestly utilizes a unique methodology which considers the complete life cycle of the structure. Our approach to demolition is environmentally conscious and our expert team diligently ensures all surrounding locations are protected before, during, and after demolition.
Bringing years of experience to your commercial demolition projects, Priestly Demolition ensures the safety of the workers and environment, especially when potentially hazardous materials are involved.
With access to state-of-the-art technology, Priestly Demolition proudly offers a wide range of demolition services to get the job done right. We also take care of the legal requirements, such as permits and insurance. Health and safety assessments are done on the site prior to and during the project.
Commercial Demolition Presents Complex Challenges
Commercial properties encompass everything from massive manufacturing plants to condo developments and they sometimes can present unique challenges in terms of safety, hazardous material abatement and environmental responsibility. Priestly Demolition Inc (PDI) is chosen for large commercial demolition projects because we have the experience, expertise and high reach equipment to handle these projects safely and efficiently
FULL-SERVICE COMMERCIAL DEMOLITION SERVICES
As trusted commercial demolition specialists, we offer:
Conventional demolition with an engineered plan

Excavation and brownfield remediation services

Asbestos, lead and mold abatement

Structural engineered plans, site reviews and design services for structural demolition and building stability

3D scanning,  3D modelling of structures with BIM technology

Site surveying for excavation and stockpiles

Rock, rubble crushing and soils screening

Community engagement
Why Do You Need Commercial Demolition Services?
Highly trained commercial demolition contractors provide essential services to ensure your project is done correctly and completed on time, with all health and safety guidelines followed.
This means that danger to the public from falling materials is lessened, worker safety is paramount, and environmental factors are observed and preserved.
As many projects are carried out to repurpose current structures, such as tall office buildings becoming new condos, there are different stages of demolition that happen before the structure falls.
When you work with commercial demolition specialists like Priestly Demolition, we understand how to correctly deconstruct what's needed and salvage as much construction material as possible.
Our Commercial Demolition Process
At Priestly Demolition, we are proud to provide end-to-end support to our clients during the demolition process, from initial consultation to final site cleanup.
Our experienced demolition experts will conduct a thorough site visit to assess the dimensions, layout, and accessibility of the site. Based on their evaluation, they will curate a list of equipment required for the job and work with you to develop project specifications, which will include details about the scope of the work, the timeline for completion, and any specific safety or environmental requirements.
To ensure a seamless demolition process, we will obtain all necessary permits and approvals from local authorities before commencing any work. The duration of the demolition process can range from a few weeks to several months, depending on the scope of your project.
Once the demolition work is complete, our team will dispose of any debris and hazardous materials, leaving the site clean and safe for future use.
What You Need to Know Before Commercial Demolition
There are several safety precautions that you should take or consider before you initiate a demolition project, including:
A site assessment to determine the presence of hazardous materials, such as asbestos, lead-based paints, or chemicals.
Obtain necessary permits and approvals from local authorities.
Notify neighbours.
Secure the site with proper fencing and warning signs.
Remove all combustible materials from the site.
Turn off all utilities, such as electricity, gas, and water.
Plan for proper disposal of all materials.
Create a reasonable budget and have at least a 10% contingency.
Commercial Demolition Projects
Our engineering professionals, heavy equipment mechanics, and safety department all have the ability to pivot quickly, therefore eliminating the need to use outside organizations for support.
55 & 61 CHARLES STREET
Located in the busy heart of Toronto, these two apartment buildings were demolished to create space for new condominiums.
With hazardous materials to consider, such as the presence of asbestos, along with a tight deadline, this project was done in stages to reduce safety hazards and increase productivity.
89 AVENUE ROAD
Because of the structural framing challenges and the basement area needing to be backfilled, this structure was demolished differently.
With many materials used in the original construction, once they were all removed, the backfill happened. With space being a concern, this resulted in the demolition happening from the inside out.
880 BAY STREET
This project involved intricacies such as the disentanglement of services from the adjoining business, and the decommissioning of electrical services that could trigger the fire alarm.
With public safety a high risk, many safety procedures were taken to ensure protection from falling dust and debris and to prevent damage to nearby buildings.
Request a Quote Today
Speak to our estimating team to get a quote, and start planning for your commercial demolition project today.
FAQs
Why Should I Use a Professional Commercial Demolition Company?
There are many things you need to consider before starting a demolition project. Our professional team of demolition experts looks after these details for you.
Before, during, and after the demolition, from the permit process to the site's remediation, as well as environmental and safety considerations, Priestly Demolition does the heavy lifting so you don't have to.
What Is The Difference Between Demolition and Deconstruction?
Deconstruction is more labour-intensive, as this is usually done by hand.
The purpose is to sort through materials to increase the recycling rate of the project. Demolition is done faster and utilizes technology and heavy equipment.
What Is The Cost?
This is determined by the size, location and timeframe of the project, as well as the materials involved and the potential need for hazardous waste material abatement. Reach out to Priestly Demolition Inc today for your personalized quote to get you started.
Our engineering professionals, heavy equipment mechanics, and safety department all have the ability to pivot quickly, therefore eliminating the need to use outside organizations for support.
2020
55 & 61 Charles Street
55 Charles Street (nine-storey) and 61 Charles Street (three-storey) are two buildings located side by side in the heart of the city of Toronto that needed to be demolished to make space for a 50 storey condominium development.
SEE DETAILS