Demolition & Excavation Company
Leading the Way With Innovative Solutions, Smart Technology and Experience
Focused on high standards in quality workmanship and customer service, Priestly Demolition Inc. (PDI) thrives as one of the leading demolition contractors across the country. We have the innovation, technology and experience to engineer plans for the most difficult and complex demolitions jobs. In a rapidly evolving and fast-paced industry, it's not just about demolishing a building anymore—it's about the complete life cycle of the structure. We pride ourselves in devising unique demolition solutions that increase the safety and efficiency of our projects, while demonstrating exceptional environmental stewardship. Our engineering professionals, heavy equipment mechanics, and safety department all have the ability to pivot quickly, therefore eliminating the need to use outside organizations for support. This makes PDI a full service organization, and saves both time and money.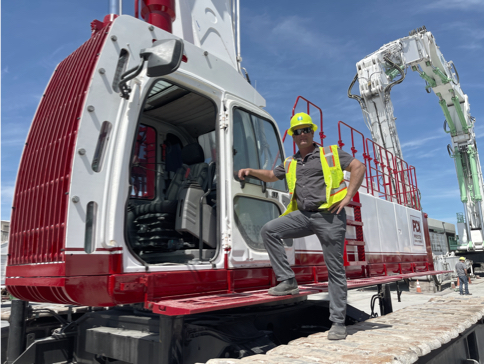 Meet Our Executives
Our leadership team is focused on using our leading-edge engineering solutions to better drive value and outputs for our clients.
OUR TEAM

PDI Group of Companies
To help support the expansion of Priestly Demolition across North America, the PDI Group of Companies was born. They include PDI National Salvage, Dakota Reclamators, PDI National Aggregates and PDI National Crane.
READ MORE

Member Associations
At PDI, we adopt a growth mindset and strive to continually learn and adapt new technologies in our demolition processes. As trusted innovators, we are a part of various associations and stay current on industry updates and emerging technologies.
READ MORE
OUR HISTORY
With over 25 years of experience, PDI has handled demolition projects of all shapes and sizes, with a focus on completing projects safely, on time, and on budget.
Priestly Demolition is a family-run company and we consider ourselves one community, and one family where people are the first priority.
READ MORE

PRIESTLY DEMOLITION TIMELINE

1971
Vic Priestly Contracting Ltd. (VPCL) was incorporated


1993
Priestly Demolition Inc. (PDI) was incorporated

1997
Ryan Priestly took over as President of the company

2000
Acquired the first Link Belt 8000 in Canada

2002
Performed first overnight rapid bridge demolition project

2003
Awarded the demolition contract for the Terminal 1 at Lester B. Pearson Airport

2004
Acquired the tallest demolition machine in Canada at the time – the Komatsu PC 850

2005
Began work on the Terminal 1 and Terminal 2 at Lester B. Pearson Airport in Mississauga, Ontario

2006
Bought the Impact Crusher and started custom crushing

2007
Bought the assets of Northern

2007
Moved head office to Lloydtown-Aurora Road in King City, ON

2009
Hired as a subcontractor to demolish an iconic and historic Canadian building, the Maple Leaf Garden

2012
Moved our ERP system to Vista by Viewpoint

2013
Began work on the iconic Air Canada Center (now named the Scotiabank Arena)

2013
Began work on the Bank of Canada building in Ottawa, Ontario. This started our operations in Ottawa and we have had a presence in Ottawa since this demolition project

2015
Purchased first OilQuick Coupler

2016
Began using B2W Estimate for estimating

2016
Won our First World Demolition Award for Nipigon Bridge Demolition

2017
Began using B2W ONE Platform for Field Tracking & Mechanic Shops

2017
Appointed Robin Priestly, Executive VP; Brian Priestly, VP of Operations; and Guy Chartrand, VP of Business Operations

2017
Won Two World Demolition Awards: Contract of the Year Under US$1M for St. Michael's Hospital Stairwell Project and Recycling & Environmental for our demolition of the Humber Hospital

2018
Priestly Demolition Inc. awarded contract to demolish Ontario's first open pit diamond mine, the Victor Mine, in Attawapiskat, Ontario

2019
Brought on Jeff Holmes as Vice President

2019
Priestly won the Excellence in Demolition award at the National Demolition Association for the CN Tower 3rd Floor Observation Deck project

2019
Priestly Demolition Inc. begins work on first project in the USA – the demolition of bridges along the I-66 interstate freeway in Virginia, a $10M contract

2019
First episode of Salvage Kings airs on the History Channel

2019
Priestly Demolition Inc. is recognized as one of Canada's Top Small & Medium Employers

2020
Appointed Andrew Smith, VP of Finance

2020
Opened PDI National Salvage

2020
Priestly Demolition Inc. is recognized as one of Canada's Top Small & Medium Employers

2021
Priestly Demolition Inc. acquires Dakota Reclamators Ltd. In Calgary, Alberta to facilitate projects across the country

2021
Priestly Demolition purchased the biggest and heaviest Kobelco 1600 High reach Excavator in Canada, and the only one of its kind in North America

2021
Priestly Demolition Inc. named one of Canada's Best Managed Companies
We work hard every day, persevere through the tough times, and surround ourselves with loyal, skilled, and hard-working individuals in order to provide the highest quality demolition services to our clients.