Soil Remediation Services
Soil Contamination in Toronto
Soil contamination is the presence of harmful substances or pollutants in the soil, which can pose a risk to human health, plant and animal life, and the ecosystem as a whole. Soil contamination can occur naturally or due to human activities, like industrial processes, mining, and improper waste disposal. There are several types of soil contamination that can occur, including:
Organic contamination: When chemicals such as pesticides or herbicides seep into the soil.
Inorganic contamination: When chemicals like heavy metals and acids are leaked into the soil.
Physical contamination: When materials like debris or plastic waste are mixed with the soil, making it unsuitable for plant growth.
Soil contamination is a serious issue around the world as it can cause reduced soil fertility, damage to vegetation, animal diseases, and pollution of drinking water. That's why soil remediation is so important; it actively protects and prevents further harm to the environment and our population.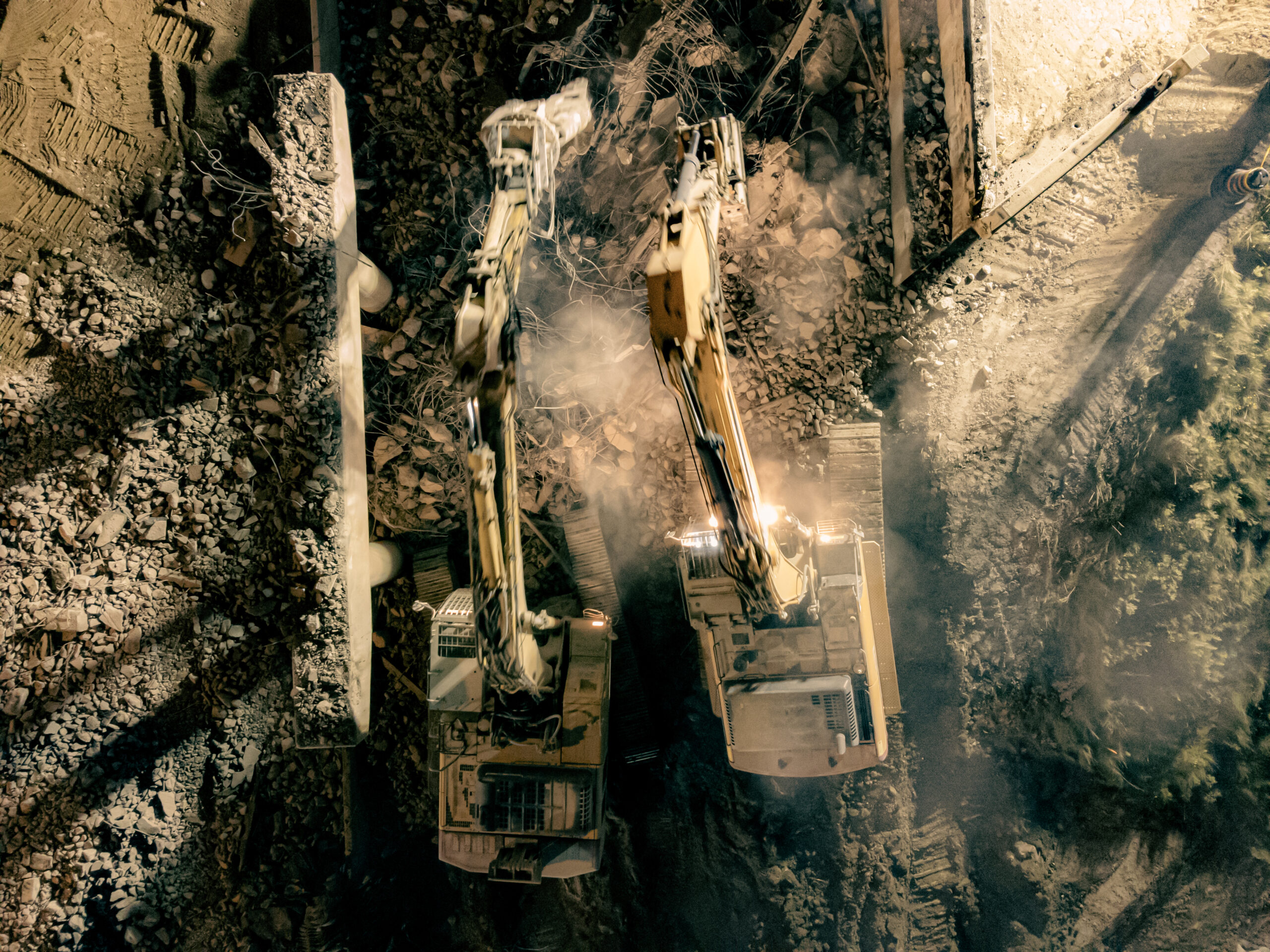 Soil Remediation Process
At Priestly Demolition, our soil demolition projects begin with a thorough assessment of the site to determine the extent and type of contamination present. This typically involves soil sampling and laboratory analysis to identify the composition and concentrations of pollutants present, which will inform the appropriate remediation strategy needed for the project. Some commonly used treatment methods are bioremediation, chemical remediation, and thermal remediation.
Next, we will prepare the site, which involves clearing the area and ensuring that the remediation equipment can access the contaminated soil. This may include removing any surface debris, vegetation, or structures that may slow down the remediation process. Soil remediation can be done in situ, but in some cases where the soil is contaminated with heavy metals or if the contamination levels are high, the best approach is to excavate the contaminated soil and conduct remediation at an off-site treatment centre.
After remediation, our team will conduct follow-up monitoring to ensure the soil is safe for its intended use. This typically involves sampling and analysis to confirm that the soil now meets the applicable regulatory standards.
Why Choose Priestly Demolition for Soil Remediation Services?
Are you looking for top-quality soil remediation services in the USA and Canada? With over 50 years of experience in the industry, our team at Priestly Demolition has earned the reputation of being a company you can fully trust.
At Priestly Demolition, our team of experts offers a valuable initial assessment to determine the extent and nature of the contamination at your site, allowing us to fully customize our approach to meet your specific needs. We use a wide range of remediation methods, including excavation, soil vapour extraction, and chemical treatments, to ensure we can effectively address any contamination problem that we might face. Plus, we are committed to safety and follow strict regulatory standards to minimize the impact of the remediation process on the environment.
When you work with Priestly Demolition, you can rest assured, knowing that your soil remediation needs are in good hands. To learn more, contact us today and request a quote!
Environmental Remediation Designed to Meet Your Site Needs
Land is a finite resource, so rejuvenating contaminated sites is of critical importance to businesses and communities alike. At PDI, we remediate brownfield sites to make them suitable for redevelopment. We conduct environmental site assessments, complete demolition, and develop a solution that will return the site to being viable for future use.
REQUEST A QUOTE
OUR COMPLETE SERVICES INCLUDE
Excavation of contaminated soil and arrangement for its treatment and disposal

Management and removal of underground tanks, containers, and ancillary piping

Treatment and management of contaminated groundwater

On-site management of contaminated soil
Working with consulting firms, government agencies, and developers, we have developed comprehensive programs that have helped to transform numerous industrial properties into residential and parkland environments.

2017
Hope Island, Georgian Bay
In 2017, Priestly Demolition Inc. was contracted by the Federal Public Works Government Services to demolish a light-house and its auxiliary buildings on Hope Island, located in Georgian Bay. The purpose of the project was restorative – returning the land to its original condition and ultimately handing it back over to the people of the Beausoleil First Nations.
SEE DETAILS